We are a passionate bunch of people who want to see our customers successful in their projects and businesses. We believe that unless our clients' objectives are achieved and are happy with our service, we have not delivered. The three partners at Evolusia are practitioners in the art and science of entrepreneurship. Combined, we provide both the theories and practicals in planning, executing, financing, and growing the business from the idea to the mezzanine stage.
Partners
Joshua Teo Seng Giap
Having successfully founded and co-founded 5 companies in the past, Joshua's regional business management experience coupled with his understanding of the Southeast Asian market allows him to provide relevant and pertinent advice for organisations wanting to explore, expand and evolve in Asia. Joshua won numerous awards from Junior Chamber Singapore and was also awarded a merit award in the prestigious E-Global Award for Emerging Young Entrepreneur in 2004 and an Outstanding Young Entrepreneur Award in 2008. Having worked with CEOs and senior management in a diverse range of industries, his speaking and consulting engagements have seen him traverse many parts of Asia. Joshua graduated with a MBA (Marketing) from Leicester University and a BA (Hons) Business Studies (2nd upper) from the University of Bolton.
Rob de Jonge
Having been spoon-fed technology from a very early age, Rob is a rare breed that combines a thorough understanding of technology, strategy and leadership. He studied Physics and Business at Fontys University in the Netherlands, was online before 'www' existed and has extensive experience working in the ICT & IDM space. Rob has held senior positions managing small task forces and international project teams, most recently as the Chief Operating Officer of an online venture with offices around the region. Evolusia currently shares Rob with his other business, a company which delivers dozens of large e-commerce sites per year for European and North-American clients. He has a thorough understanding of cross-cultural issues, and how to manage them. Rob contributes on a strategic level in business, technology and operations, and has the leadership skills to make things happen.
Consultants
In addition to the partners, Evolusia has several consultants and associates that each add their own skills and experience. Below a selection from this team. Depending on the size and nature of each project, we will compile a team with the right expertise to come and support your objective. Every project is lead by one of the partners as the main point of contact from start to finish.
George Kong
George has a varied and wide working experience gained in UK and Asia Pacific for over 25 years. Starting as an Electronic Design Engineer with IBM, Hursley, England, he is a former Vice-President of ASEAN for APC-MGE (a Schneider Electric Company) where he was responsible for over 300 people covering six country operations. George also held leadership positions with IBM Singapore, Digital Equipment Corp and was the CEO of Tech Pacific Singapore. George brings a wealth of experience in strategy for technology companies and others alike, as well as thorough leadership and coaching abilities.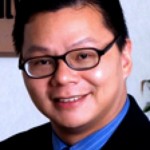 Dave Lim
Since 1996, Dave Lim has worked in new venture design, investments, banking, marketing and innovation. He has been on different sides of the entrepreneurial fence, as a technology venture capitalist, angel investor and mentor, and in start-up teams in Silicon Valley. Dave has a Masters degree in finance and business, Bachelor of Arts (Honours Economics), diploma in Computer Science, and is a Certified Professional Marketer. He has also taught at RMIT and UNSW. Dave consults on and facilitates innovation in businesses ranging from small entrepreneurial startups to large multi-national corporations.
Our cloud
All members of the Evolusia team are avid networkers and each have an extensive network of connections throughout Asia and around the world. These connections, which we collectively refer to as 'our cloud', are invaluable to us and to your business as it helps us help you get the right kind of support and connected to the right kind of people.